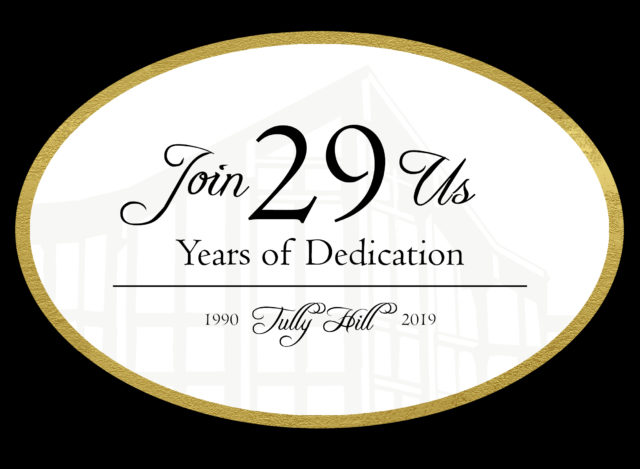 Proceeds from the evening support the Tully Hill Foundation in providing the best in patient care for substance use disorder treatment. For more information please contact Executive Assistant, Lisa Flynn by phone: 315 - 696 - 6114 or email: lflynn@tullyhill.com
Tully Hill Treatment & Recovery
5821 State Route 80
P.O. Box 1116
Tully, NY 13159
Proceeds from the evening support the Tully Hill Foundation in providing the best in patient care for substance use disorder treatment. For more information please contact Executive Assistant, Lisa Flynn by phone: 315 - 696 - 6114 or email: lflynn@tullyhill.com
At Tully Hill we save lives every day. When you donate to Tully Hill, you also save lives. Your donation helps ensure that successful treatment and recovery continues to happen, that patients recover from life-threatening substance use disorders and families and loved ones are again made whole.
If you can not attend the Fundraising Dinner please consider donating an item, tickets, gift card or service for our silent auction to help us to continue the vital work we do in the community.
With your donation, we will be able to:
❖ Continue to specialize in substance use disorder treatment and care
❖ Tailor services and programs to meet each and every patient's many needs
❖ Ensure that we keep providing that same dedicated attention and care to patients' family members and loved ones
❖ Help guarantee that we maintain our high standards of medical and clinical excellence
❖ Work towards eliminating the harmful stigmas against substance use disorders.
Substance use disorder is a chronic, progressive, non-discriminatory disease characterized by denial and relapse. Substance use can be stopped. Our patients and families can and do get well. You have the power to improve the lives of countless individuals and their families suffering from addiction in our community.   
The Tully Hill Foundation is a private 501(c)(3) not for profit corporation, exempt from federal income tax. It is our privilege to provide detoxification, inpatient and outpatient treatment to adults suffering from substance use disorders. We are proud to celebrate 29 years of saving lives and changing lives. We have treated over 18,000 since our opening on October 3, 1990. 
Thank you in advance for your generous support to help us continue our mission. Proceeds from our evening will support the Tully Hill Foundation as we continue to provide the best patient-centered, evidence-based substance use disorder care.
The Fair Market Value of the benefits received by purchasing tickets is estimated to be $50 per person. Please check with your tax advisor regarding the deductibility. A copy of our latest annual report may be obtained from the Office of the Attorney General, Charities Bureau.